Dua was hospitalized in an incentive care unit since last several day. He was 67.
The Newster
Veteran Journalist Vinod Dua passed away in a Delhi hospital on Saturday. Dua was hospitalized in an incentive care unit since last several days. He was 67.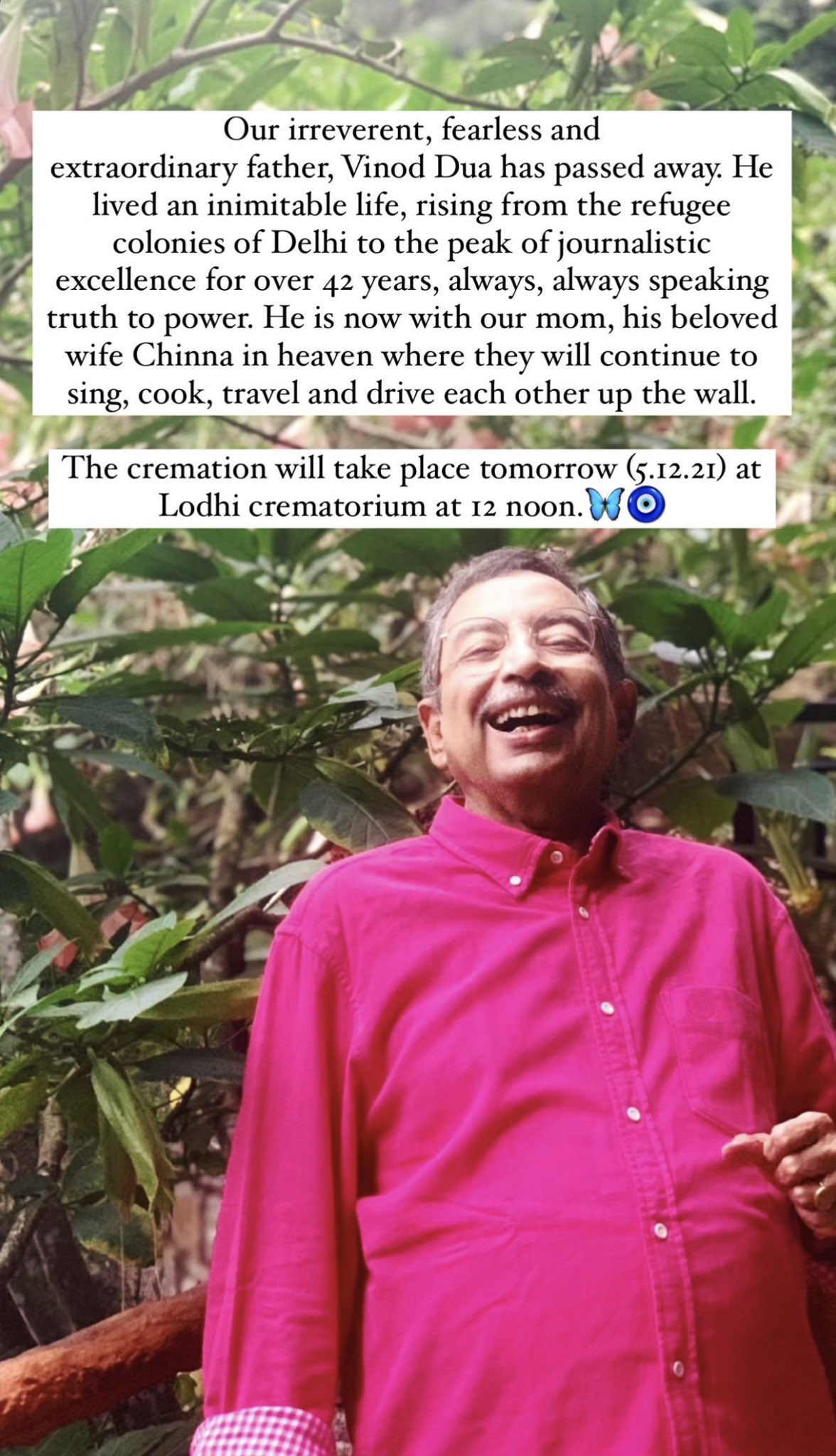 His daughter Mallika Dua took to instagram to share the news. Ms Dua wrote, "Our irreverent, fearless and extraordinary father, Vinod Dua has passed away. He lived an inimitable life, rising from the refugee colonies of Delhi to the peak of journalistic excellence for over 42 years, always, always speaking truth to power. He is now with our mom, his beloved wife Chinna in heaven where they will continue to sing, cook, travel and drive each other up the wall."
During the second wave of covid 19, in May, he was contracted with the coronavirus. Since then his health was a matter of worry. Few days back he was admitted to a Delhi hospital when his health further deteriorated.
His daughter further informed that the cremation will take place at Lodhi crematorium on Dec 5.
During the second wave, he had lost his wife Padmavati Dua to Covid 19.
Vinod Dua was the first electronic media journalist to win the prestigious Ram Nath Goenka Excellence in Journalism Award in 1996. He was also conferred with the Padma Sri for journalism by the government of India in 2008.
Dua worked for a range of news channels including NDTV and Doordarshan. Mr Dua, debatably was the first food blogger in the TV news era. His food program Zaika India ka was viewed and loved across the nation.
Many journalists, politicians and people from film industry mourned the demise of Mr Dua.
NCP leader Nawab Malik expressed his condolences on the Dua's demise. He said in a tweet, "Saddened to learn about the demise of veteran journalist Shri. #VinodDua Ji. Condolences and strength to the family and close ones in the hour of grief."
NDTV's Kadimbini Sharma:
Conversations with Vinod ji were a delight- informative, witty…be it politics, events, food or personalities… श्रद्धांजली
The Wire's Arfa Khanam Sherwani: The passing away of Vinod Dua, the pioneer of TV News in India, is a personal loss. I worked with him in NDTV & The Wire. But more than a colleague, he was a friend, philosopher and guide to me. There was no one like him,there'll never be one. End of an era! Khuda Hafiz,Dua Sb !
Author and ex-AAP leader Ashutosh said, "One of the legends of the TV journalism, Vinod Dua. Never compromised with his values. Always said what had to be said. Always unafraid. Will miss u sir."
Actor Swara Bhaskar:
From #mallikadua 's IG stories.. Heartfelt condolences to Mallika and the family on the tragic passing of #VinodDua sir.. May you have strength, forbearance and patience at this time Mallika. All my love and my deepest condolences. Yours in grief..
India's Premier Social & Political Satire Platform: 2002- Sahara India brought in #VinodDua to head all their news operations. He didn't last long at the helm. One of the reasons, as the lore goes, was his refusal to do the compulsory Sahara Pranam at the start of the show Till the end he lived independently, on his terms. RIP Sir
Press Club of India: Vinod Dua was a fearless symbol of the fourth pillar of democracy, a journalist who could hold forth on food, politics and culture equally We are poorer in his passing The PCI stands by his family, especially his daughters who also lost their mother Chinna Dua earlier this year
Senior TV anchor: There has been no more 'natural' tv personality than Vinod Dua: he was a trend setting journalist who could dive into a prog on politics,food, music, poetry with equal ease. Dua-Roy election jugalabandi was spl in 80s/90s DD general election live coverage as was Parakh show. RIP
Lyricist Javed Akhtar: Vinod ji , this is not fair , how could you do this to us . It is the time when we needed you the most and you have left us . Sir we , millions of Indians will miss you for ever .
Vinod Dua is survived by two daughters — Comedian Mallika Dua and Bakul Dua, a clinical psychologist.
About Author